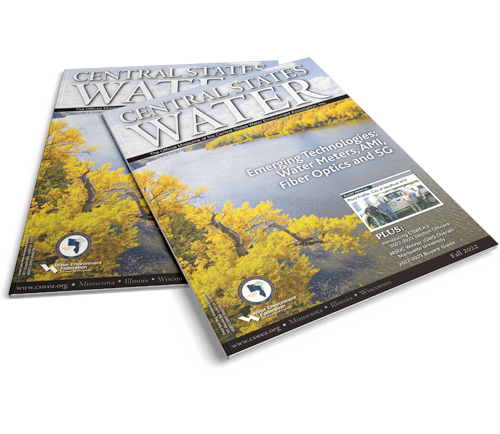 Dear industry supporter and prospective advertiser,
As someone who is directly involved in the delivery of high-quality products and services to the wastewater industry throughout the great states of Wisconsin, Illinois and Minnesota, we know that you and your company have a vested interest in the industry's well-being. As Executive Director of the Central States Water Environment Association (CSWEA), representing professionals who are dedicated to preserving, restoring and enhancing our water resources, I can assure you that we share the desire to make our industry as strong, vibrant and progressive as possible.
To that end, Central States Water magazine plays a vital role in our industry's building and strengthening process. From featuring major projects and providing timely news to dealing with important issues, profiling industry professionals and helping our members become better prepared to meet the numerous challenges they face, our quarterly Central States Water magazine is an important communication vehicle within our industry.
As we strive to ensure that our magazine fulfills its important education and communication responsibilities, I urge you to take full advantage of its potential to effectively promote your company's products and services, and to demonstrate your commitment to and support of the wastewater industry in our tri-state area. When you are contacted by Jeff Kutny of our magazine publisher, Craig Kelman & Associates, I sincerely encourage you to make the most of this high-impact and meaningful marketing opportunity by including Central States Water magazine in your promotional plans for the year ahead. It is definitely a win‑win situation for all concerned.
Sincerely,
Mohammed Haque, Executive Director
Central States Water Environment Association, Inc.
$1,000 Scholarship
Funded by your advertising participation
As the publisher of Central States Water magazine, we at Craig Kelman & Associates have a deep appreciation
for our readers and members of CSWEA whose task it is to ensure that water taken from and put back into
the earth is clean and safe for the people, animals and plants whose very existence depends upon it.

To demonstrate our admiration and respect for the association, its members and the water industry as a whole,
we have established a yearly educational scholarship of $1,000 to be funded through
a percentage of advertising sales generated in Central States Water.

On behalf of the publishing professionals who form part of our team, as well as
our advertisers who use the pages of Central States Water to convey their important messages,
we look forward to helping a worthy individual further their education in the water industry.